Berlin City Lights Tour during the Christmas Season
Christmas Lights Tour with stop at a romantic Berlin Christmas Market
Enoy the festive ambiance at the Berlin Christmas market in front of Charlottenburg Palace.
Berlin City Lights Tour with Christmas Market Stroll
Berlin Lights Tour
: Take an individual guided tour of a special kind and discover the radiant city lights during the Christmas season.

Perfect starting time of this tour is after dusk at 4:30pm or 5:00pm.

Duration approx. 2 hours - with exit and stroll at Charlottenburg Palace Christmas Market about 2 1/2 hours.
You determine the starting and ending point in the center of West or East Berlin; e.g. start directly from your hotel, your home or business address; and end the tour at one of the charming Berlin Christmas Markets or a restaurant of your choice.
Private city lights tour exclusively for your group depending on the group size in a motor coach, minibus, van or sedan.

Christmas in Berlin

Explore the fantastically staged sights in bright light and illuminated festively staged boulevards. Admire Berlin´s highlights.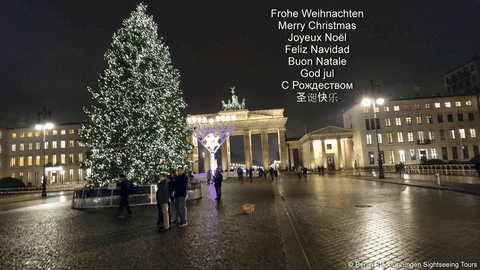 Berlin Christmas City Lights Tour
Berlin City Lights Tour 2 - 2 1/2 hours

Our special lightseeing offer

Vehicle / No. of seats

Vehicle with driver

Tour Guide Fee *


Total

Mercedes E-class sedan

2 seats + Guide

€URO 133,00

€ 150,00

Minivan 6 seats

€URO 150.00

€ 150,00

€ 300,00


Sprinter VAN 7 seats

€ 150,00

Small Bus 16 -19 seats

EURO 245,00

€ 150,00

€ 395,00

Coach

30 seats

EURO 259.00

€ 150,00

€ 409,00

Coach 49 seats

EURO 298,00

€ 150,00

€ 448,00

Special offer with our transport partner Wunderwald. All prices are inclusive of 19% VAT * Saturday, Sunday, Public Holiday: Berlin Tour Guide Fee € 180,00
Vehicles for your private Berlin Christmas Lights Tour:
Depending on the group size the Berlin Christmas Lights tour will be in a comfortable Doubledecker, Coach, Mini Bus, Minivan or in a Sedan. Examples:
Start your Christmas party with style
Berlin Lights Tour: the ideal start to your Christmas party with colleagues, employees or business partners.
Time to explore Berlin during the festive season. See the impressive Berlin tourist attractions in bright lights. Start your Berlin Christmas party in style.

Festive Berlin Tour
For an individual offer please send us your detailed inquiry.

Berlin City Lights Tour: Date, starting time, starting point, ending point …
Send Berlin Tour Inquiry
Request non-binding offer here:
Berlin Christmas Lights Tour
Christmas in Berlin
Berlin Lichterfahrt
Average Rating:
4.86
Votes:
426
Reviews:
417
Romantic Berlin Christmas Lights Tour