The "ALL IN ONE" Berlin Discovery Walking Tour
Berlin Discovery Walk
Discover with us Berlin´s past, present and future on a guided sightseeing walk "The Berlin Discovery Walking Tour".

Duration: approx. 3 1/2 hours incl. refreshment break.

Bookable at the date and starting time of your wish.

Language: English; city tour guide in other languages on request.

Start / Meeting point: Pariser Platz, exit S-U station Brandenburger Tor.
Alternative starting point: World Time Clock at Alexanderplatz (Walking Tour in opposite direction).

This Berlin Discovery Walking Tour is perfect for small groups up to about 25 persons.

Tour Guide Fee: €URO 250,00 Saturday, Sunday, Public Holiday, during UEFA Euro 2024 or after 6:00pm € 290,00 Not included are entrance fees and gratuities.
Highlights on the route
Brandenburg Gate, Pariser Platz, Governmental Quarters,
Square of the Republic, Reichstag Parliament Building, Federal Chancellery,
"Holocaust Memorial", Potsdamer Platz, Berlin Parliament Building,
112 meters original Berlin Wall, Checkpoint Charlie,
Gendarmenmarkt, German and French Cathedral, Concert House,
Schiller Memorial, Memorial Sunken Library, St.-Hedwigs-Cathedral,
Equestrian statue of King Frederick II., Unter den Linden Boulevard,
State Opera House, Humboldt-University, Old National Library,
German Historical Museum, New Guard House, Crown Prince's Palace,
Castle Bridge, Berlin Cathedral, Museum Island, Old Museum,
Old National Gallery, Spree Island, Reconstruction of the Berlin Palace,
Marx-Engels Monument, Berlin City Hall (Red Town Hall), Neptune's Fountain,
Berlin TV Tower, Alexanderplatz, World Time Clock,
and many more attractions and places of history …

Refreshment break possible.
Berlin walking tour great to orientate yourself
For a most memorable Berlin visit we invite you to join an exciting sightseeing city walk through the old and new center of Berlin. This thrilling walking tour will allow you to see the cultural, social, historical and architectural aspects of this unique town. Stroll through the history-rich heart of the city.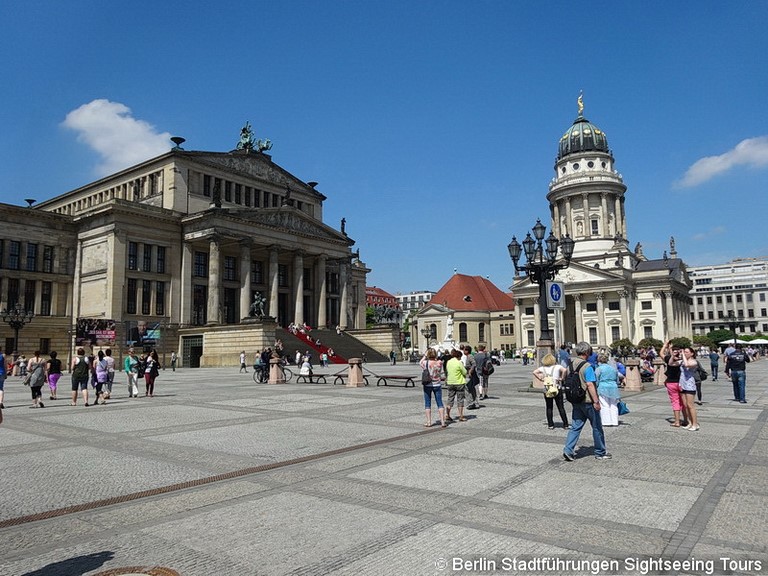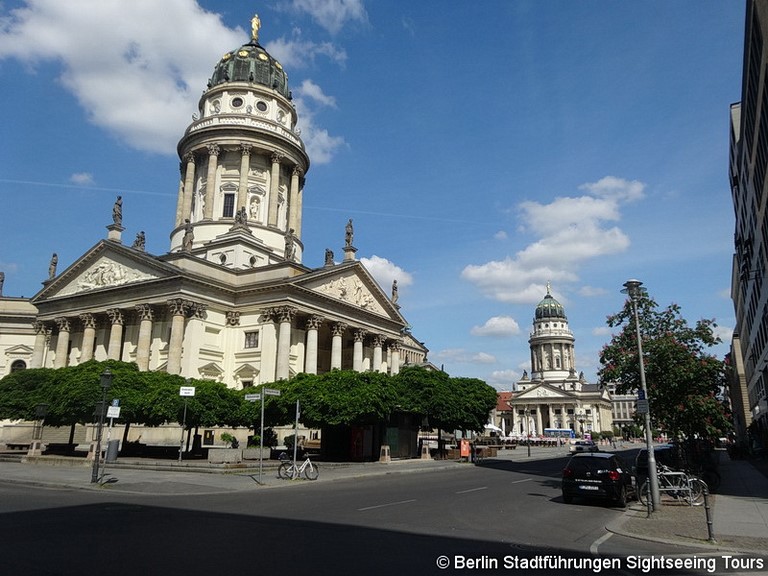 Starting Point Berlin Brandenburg Gate
Starting point Berlin Discovery Walking Tour: Pariser Platz, exit S-U station Brandenburg Gate. Alternative starting point: World clock on Alexanderplatz. Tour in the opposite direction.
DISCOVER BERLIN TOUR
Walking Berlin means getting to know Berlin in the best way possible.
Discover Berlin Tour
For an individual offer please send us your detailed inquiry.

Berlin Discovery Walking Tour: Date, starting time, starting point, number of participants, language, …
Send Inquiry
Request non-binding offer here:
The New Berlin Tour
Walking tour "The New Berlin". In 2 hours from Brandenburg Gate to Reichstag parliament building & governmental district to the "Holocaust Memorial" and to the business center Potsdamer Platz. The New Berlin Tour